Two years ago SA and I went to New Hope, PA in Bucks county for our getaway mini-honeymoon after the wedding. This weekend we're going back again.
photo by Thomas Graves
Why New Hope? Well, its a fun little town by the Delaware river and is really close to Doylestown, PA, home to everything
Henry Mercer
. Two museums and a pottery/tilework factory to be exact. The most amazing thing is all three of these buildings are made of concrete.
The Mercer Museum is where all of his collection of everyday objects are housed. He arranged it like the structure of our brain. The ground floor is mostly essential tools, and as you move upwards in the building you see tools used in printmaking, medicine, fabric weaving, etc. Chairs, carriages, wagons, and more are suspended from the ceiling.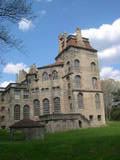 Then there is the Moravian Pottery & Tileworks where they still make reproductions of Mercer tiles! A few jumps away is the Fonthill Museum (photo at left), where almost every inch of wall/floor/ceiling is embedded with the most colorful tiles.
Yarn Harlot
recently posted about being in Doylestown, PA. As I read her post I realised that I didn't know there was a yarn store in Doylestown. How is that possible? I look up yarn store info on every location I visit! Well, then I remembered I've only been knitting for just over a year, so two years ago I was blind to the yarn stores all around me. Crazy!
Just two weekends to go till Sheep & Wool. I think I can hold off any yarn purchases for two more weeks. But me thinks I should maybe at least peek my head inside the Doylestown yarn store. Just out of knitters ettiquette. And curiosity I suppose.
oops...I better run off to pack!